Michele Holmes is the author of four novels: Captive Heart, All the Stars in Heaven, Counting Stars, and My Lucky Stars; as well as the novellas Saving Grace, Loving Helen and Marrying Christopher. In 2007, she won the Best Romance Whitney Award for Counting Stars.
Marrying Christopher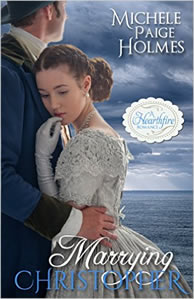 From Amazon Top 100 Regency Romance author, Michele Paige Holmes, comes MARRYING CHRISTOPHER, a regency romance from the Hearthfire Romance series.
Having seen both his sisters Grace and Helen happily married, Christopher Thatcher is free to pursue his dream of life in America. With adventure in his heart and mind, he boards one of the first steamships set to cross the Atlantic in the record breaking time of only twenty-five days. Within the first two of those, his resolve—to avoid women and the complications they often bring to a man's life—falters when he meets Marsali Abbott, a young woman with a past even more troubling than his own. Whether from years of habit protecting his sisters, or simply because he feels drawn to Marsali, Christopher chooses to help her and becomes her friend. As the truth about what awaits Marsali in America becomes evident, he is faced with a more difficult choice, one that will impact their lives far beyond four weeks together at sea.
Buy Marrying Christopher on Amazon (Kindle Edition) Available July 30th, 2015
Buy Marrying Christopher on Amazon (Paperback Edition) Available August 30th, 2015
Loving Helen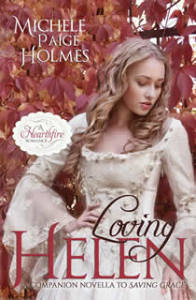 Revisit the characters from Saving Grace in this companion novella, Loving Helen, the story of Grace's shy, younger sister.
Nineteen-year-old Helen Thatcher grew up under the protection of her older siblings, Grace and Christopher. Living in their shadows and keeping to herself suited Helen just fine—until she met widower Samuel Preston. Watching Mr. Preston care for his young daughter and seeing his concern extend to her own family, Helen felt her reserve slipping away, as she learned first to trust him and then realized she had fallen in love with him. But instead of returning—or even noticing her affection—Mr. Preston developed his own tender, and unrequited feelings, for Grace.
In the midst of each silently nursing their broken hearts, Helen and Samuel are faced with a daunting task—reuniting Grace with her fiancé, Nicholas Sutherland. Now it is Helen who must look out for her sister and sacrifice her own fragile heart, as she and Samuel pretend to be engaged. Helen finds the role surprisingly easy to play, allowing herself to imagine that Samuel's loving remarks are sincere. As the time for their charade to end draws near Helen must summon her courage and tell Samuel the truth of her feelings, or risk losing him forever.
Loving Helen (Paperback Edition) on Amazon
Loving Helen (Kindle Edition) on Amazon
Saving Grace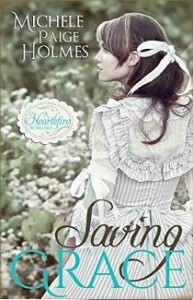 From Whitney Award Winning Author, Michele Paige Holmes, comes SAVING GRACE, A Hearthfire Romance:
After the death of Grace Thatcher's grandfather, the Duke of Salisbury, Grace wants nothing more than to live quietly in the country with her younger siblings. But her father's debts thwart those plans, and to protect her sister, Helen, Grace must marry a man of her father's choosing.
As each suitor proves less than desirable, Grace comes up with clever schemes, causing each to reject her. While staying at the mysterious Sutherland Hall, a middle-of-the-night mishap sends Grace into the arms of a stranger, Nicholas Sutherland—and provides inspiration for her grandest plan yet—one that will leave her reputation in tatters yet free both her and Helen from all possibility of marriage. But when Grace meets Mr. Samuel Preston, a true gentlemen and sworn enemy of Nicholas Sutherland, instead of being free, Grace is caught between two men—each with his own agenda.
Buy Saving Grace (Barnes & Noble)
Captive Heart
Emmalyne Madsen sends a desperate plea heaven ward as a band of lawless men makes their way up the aisle of the railcar. When one hauls her roughly from the seat, threatening and cursing, Emmalyne fears her adventure out West has just turned into a nightmare.
Thayne Kendrich has an urgent need for a school teacher, and he's not above doing whatever it takes to get one — including forcing her at gunpoint across the scorching prairie. But the teacher he chooses turns out to be a little tougher — and softer — than he anticipated, and before long he finds himself battling emotions he vowed to never feel again.
Emma, too, struggles with feelings she knows she ought not be having toward Thayne. He's an outlaw, after all — or is he? As the days pass and their destination — the Black Hills — draws nearer, Emma realizes that out West, the line between right and wrong is sometimes blurred. Might the man she believed to be on the wrong side of the law have acted with the purest intentions? If so, her greatest danger may be in her own heart, as he holds her captive in more ways than one.
All The Stars in Heaven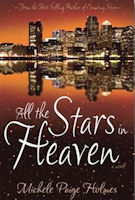 Ever since the woman he once adored told Jay Kendrich he was a chivalrous hero, he has tried to live up to the praise. But when things don't work out with Jane, moving on and dating other girls proves to be a chore. That is until he meets fellow Harvard student Sarah Morgan. Although Sarah is a freshman studying music and Jay is in his third year of law school, he discovers they have much in common. He has also discovered that getting to know the shy pianist is painful. The last thing Jay expected from his friendly advances was to be assaulted by a brawny stranger. It is abundantly clear that someone wants him to stay away from Sarah. If only he could. As long as she can remember, Sarah has lived under a watchful eye. While her father insists it's for her own protection, Sarah feels imprisoned. As she begins to believe that those she has trusted most don't have her best interest at heart, she is driven further from her respected father and closer to Jay. But their love will come at a high price as the pair edges closer toward to a truth that is darker than either of them could have imagined.
Counting Stars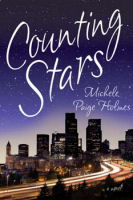 Jane was hoping for a second date — maybe even a boyfriend. What she wasn't expecting was Paul Bryant's completely original and sincere pick-up line: "Hi. I'm Paul. I have terminal cancer. My wife was killed in a car accident, and I'm looking for a woman to raise my children." It was never Jane's plan to fall in love with a dying man and his two infants. But her seemingly simple decision to date someone outside her faith leads to one complication after another, and the choices she makes soon have far higher stakes than she could have foreseen. In choosing to help Paul, is she choosing to be alone forever? And how can something that seems so unbelievably messed up feel so completely right? Sometimes love is found in the least likely places and the greatest blessings are discovered while counting stars.
My Lucky Stars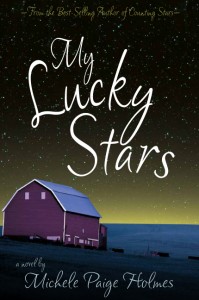 High-powered, highly pampered Tara Mollagen couldn't imagine a worse start to the holidays than boarding a crowded plane. A stolen wallet and lost suitcase later, she finds herself stranded in unfamiliar territory,Salt Lake City, after being rerouted to avoid a Colorado blizzard. With her temper running as wild as her red curls, Tara realizes her only option out of town is with Benjamin Whitmore, her reluctant knight in shining armor, er, overalls. For being a nice guy, Ben is rewarded with one aggravating situation after another with sassy, spoiled Tara. While doing his best to bring her pride down a notch, he begins to see another side to her, and a side of himself he's not overly fond of. When tension between them reaches a crescendo, he takes matters into his own hands and Tara into his arms. Unable to forget her experience with Ben, Tara returns to Seattle and long-time friend Jane, who offers possibilities Tara had never even considered. But change is difficult, and she's not so sure she has what it takes to make that leap of faith, or if she has the courage to leave her old life behind.