Last year I was thrilled to be invited again to be a part of the Timeless Romance series. If you've somehow missed this extensive series of clean romance by some of the best writers out there, then you're in luck! There are many great novellas, time periods, settings, and authors to choose from.
In 2017 TR launched a new series of novella singles, with stories that are slightly longer (okay, maybe mine is a bit more) than the usual novellas in their collections. I'm excited to be their September release with this sweet little story titled, The Heart Only Grows. It's available for preorder now and will be released September 28th. Check out the gorgeous cover and synopsis below.
Happy Monday! Hope it's a marvelous week.
For Children's Aid Society employee Addelaide Campbell, riding the Orphan Train is a labor of love—a last, heart-wrenching attempt to do the best she can for the children entrusted to her care. If only she could keep them all…Or at the least, keep children from the same family together. When the sheriff of Somerset, Wisconsin, offers an unexpected proposal that might allow her to do just that, Addie takes a leap of faith—or possibly insanity—and decides to accept.
Miles Linden has sworn off women, children, marriage, and family. In the two years since he lost his wife and daughter to influenza, loneliness has been his constant companion, except on Friday nights when he drowns his sorrows at the local saloon. He's coping with this arrangement just fine, until the morning he's rudely awakened by a pert woman and two gawking children who mistake him for a real outlaw, instead of a man sleeping off his liquor on the cot at the jail. Being awakened and accused are the least of the surprises awaiting Miles, since Addie Campbell and the Orphan Train arrived in town.
More Timeless Romance Singles: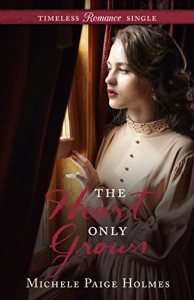 FROM CAIRO, WITH LOVE by Nancy Campbell Allen
SOPHIA'S LEAP-YEAR COURTSHIP by Kristin Holt
STARTING OVER IN STEEPLE RIDGE by Liz Isaacson
THE MATCHMAKING GAME by Donna Hatch
THE HEART ONLY GROWS by Michele Paige Holmes
MORE TROUBLE IN LOVELAND by Jennifer Peel